Have an attentive ear? Want a sound output device that delivers outstanding sound? Look no further than the Vision Plus Sound Pro 160W RMS. To discover what makes the Sound Pro 160W RMS the best sound bar system in Kenya, let's examine key attributes such as:
price
sound quality
build
and add-ons
Sound Quality – Made for the Audiophile in You
The make-or-break factor when it comes to speakers, sound systems and similar products is the quality of their output. While this may seem like an unstated assumption, there are many sound devices out there that break this cardinal rule.
Several brands have come under fire from audio enthusiasts for focusing more on lifestyle appeal rather than finetuning their output.
The Vision Plus Sound Pro 160W RMS sound bar doesn't just convey sound. Thanks to Dolby Digital Plus technology, it offers you crisp, clear audio. This goes a long way in making it a top choice when considering the best sound bar system in Kenya. Dolby has been a leader in sound engineering for decades, making its technology the choice for our sound bar system.
Great Sound at an Even Better Price
Despite how significant sound quality is, we can't deny that price is an equally important consideration.
A sound bar in Kenya can cost as much as KShs 100,000 or more. But, price doesn't always equate to value. When shopping around, keep in mind that some brands charge a premium simply due to the brand name.
In the same vein, an extremely low price should be a cause for concern. This could mean that the product is generic. You'd be at a disadvantage with such a product as the manufacturer would be unavailable if you need support. Moreover, it could be an indication that it lacks quality features. This is due to the fact that licensing the best technology is often costly.
The Sound Pro 160W RMS sound bar goes for KShs 21,995. Currently, it is available at a discounted price of KShs 17,495.
A Sound Bar Built To Catch The Eye & Captivate The Ear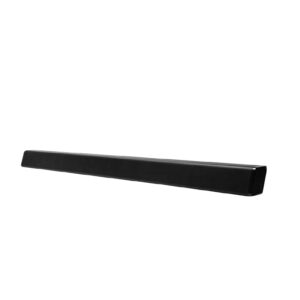 Another attribute to look for in the best sound bar system in Kenya is build. Great design in a solid build is a testament to the level of craftsmanship that goes into a product.
With our Sound Pro 160W RMS, we paid attention to the little details. This results in a refined sound bar that looks as good as it sounds. This particular model features an understated yet striking minimal design. As such, it can complement an array of spaces and meet various needs. Moreover, the wireless sound bar and woofer design is unobtrusive.
For maximum connectivity, the Sound Pro 160W RMS features both HDMI ARC and optical ports.
Extra features offer additional value to you as a consumer. At Vision Plus, we go the extra mile. We don't just make good products. We offer great after sales service along with them.
With your purchase of the Sound Pro 160W RMS, you also get:
To find the best sound bar system in Kenya, explore other products in our range by clicking here.
Experience immersive sound with the Vision Plus Sound Pro now!